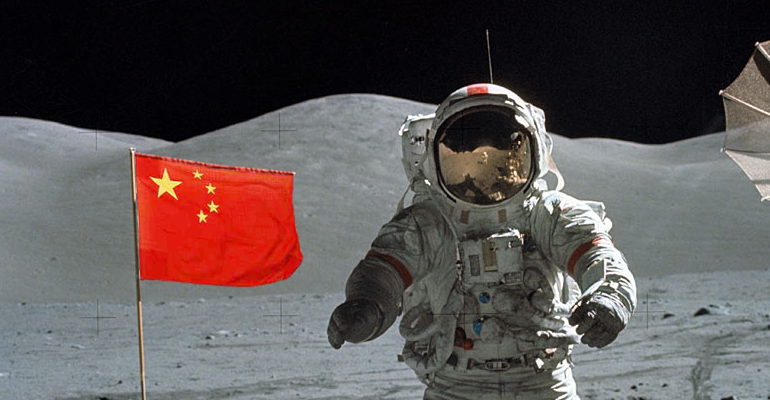 The lunar rover Yutu has an account on the social network where it posts its daily experience of satellite exploration. Thousands of people follow it on the Web
"Hi, is anyone there?" Moon Buggy Jade Rabbit posted this message on its profile at 8.49 on February 12. Nothing extraordinary, if it weren't that the author of this short post on Sina Wiebo is a robot and it's on the Moon. The Chinese space agency sent the rover Yutu on our satellite within the Chang'e 3exploration programme and to top it off it opened an account for it on the micro-blogging platform (somewhere between Facebook and Twitter), one of the most popular ones in the People's Republic of China.
Disappeared from radars and given up for dead, Yutu had not showed any sign of 'life' for more than a month. His message on the social network (completed with an emoji of rabbit years) was therefore a shocker for the thousands of Sina Weibo users who followed the rover's account since the beginning of the mission, and who shared 600,000 times the last message he had sent on January 25, just before the lunar night. Yutu had not managed to enter hibernation mode and it had a mechanical malfunction that couldn't be solved from the ground station. His post sounded like a farewell: "The sun here has fallen, and the temperature is dropping fast, I'll tell everyone a little secret. I'm actually not that sad. I'm just in my own adventure story, and like any protagonist, I encountered a bit of a problem. Goodnight, Earth. Goodnight, humans". 
A promotional campaign through a social, well-orchestrated and with an epic sound to it. The gimmick of giving Yutu an account so that it could directly contact Chinese people was the idea of a group of space mission enthusiasts who wanted to relate the rover's activities on the Moon. They contacted the heads of the Chinese lunar programme and exposed a simple idea:  to write posts in the first person, as if they were written by Yutu itself. The result was that Sina Weibo accompanied the mission with well-wishing comments such as "Go rabbit!", "You're so cool!", "Rabbit, I'm here!", turning it into a mass event. According to Joan Johnson-Freese, an expert on China's space programme at the US Naval War College, the social account trick "gives China an opportunity to create heroes as much as the US did during the Apollo missions". And Yutu's new message reinforced the myth even further. He had been given up for dead. Now he is resurrected.