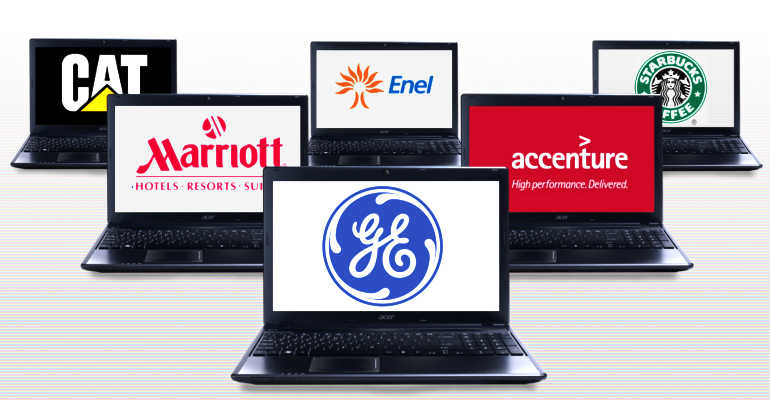 Corporate blogs are spreading, just like web only diaries of multinationals. An insight into  General Electric, Accenture, British Airways and Enel
After the social networks boom, blogs were considered done with. But, as is often the case in the digital world, that forecast made in the heat of the moment – it was 2009 – didn't prove right. There are many reasons for the survival of these discussion sites that, from the times of the RobotWisdom link, list have evolved with a makeover, while keeping their identity. One of the reasons is also, in my opinion, that companies have (re)discovered blogs, viewing them not only as communication targets to influence the Web on a product, but also as genuine corporate tools.
The companies included in Fortune 500 that have started corporate blogs from 2008 to 2013 are constantly growing (with an 18% leap over the last year), despite the budget cuts due to the crisis and the spreading of social channels to be used for communication and marketing purposes. And this trend is not only visible in the case of big companies in the USA, but also involves  large multinationals in other countries. Accenture, General Electric, and British Airways may have the most indicative models of corporate blogs and the ones that best show how this tool has evolved over the years.
Accenture's corporate blog is a hub of the company's professional communities, an evolving model that publishes a type of communication that was traditionally entrusted to the intranet, pushing it towards a more social model (LinkedIn style). Its structure is somewhat arcane, but it's still a lasting experiment that includes 19 blogs in this field and allows common users to become acquainted with the company's managers by reading their posts, without really  providing great opportunities for dialogue.
GE Reports opens a window on the life of a US giant, its activities and its various production channels. It's organised as a real magazine and is also published on Twitter, Facebook and Tumblr, with content connected with General Electric's activity, ranging from research to new products. GE is the subject of each post, though every model of 2.0 communication is being used, from storytelling to infographics and videos.
Highlife by British Airways is the most advanced evolution of the  corporate blog, being a sort of magazine for travellers, with sections and headings in which BA sometimes doesn't even appear except in the advertising banners, following the model of native advertising. Posts regarding cultural topics, shopping, restaurants, useful and peculiar information are published on Highlife with the purpose of providing a service to travellers. This is why it's the most advanced 2.0 model of corporate blog (as regards big companies). Because it doesn't directly aim to promote brands and products, but attempts to mainstream and somehow  compete with touristic guides, offering its customers an extra service and maybe even capturing a few of them precisely through Highlife.
I'm well aware of how valuable corporate blogs are for companies. Enelsharing is the channel with which we started increasingly making room for storytelling also to tell stories about the company and its employees. It's partly a hub of news across the country, even the smallest ones (from work on the network in a certain neighbourhood  of a small town to the ongoing promotions in each single Punto Enel). But most of all it's part of a model of integrated communication that is directly connected with all the social networks in which Enel is present, including Twitter, Facebook, YouTube, Instagram and Pinterest. Speed, immediateness and simplicity are the characteristics of Enel's communication: "That's the power of blog"